Elder care
If you're managing the care of an elderly parent and need a centralized system to share schedule information, medical details, and more, OurFamilyWizard can be the perfect tool for you.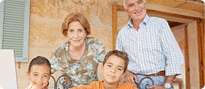 One of the interesting revelations that has occurred in the development of the OurFamilyWizard® website was to see families sign up for the service not to manage their parenting relationship, but rather to manage the care of their elder parents.  We have had many families sign-up for the service and flip the roles to meet their needs.  So instead of the parent having a parent account, they have the parent setup with a child account and the child takes on the parent account.  This allows the children of an elderly parent the ability to go into the website and setup shared records for a schedule, medical records, journals and more.

This shared access can increase a family's ability to make sure their elder parent is being thoroughly taken care of.  Also, the OurFamilyWizard® website provides a means to keep a shared repository of information such as medical records, doctor's visits and prescriptions.

You can also use the OurFamilyWizard® professional account to give access to care providers and doctors.  The third party account is a great way to keep the rest of the family in the loop without sacrificing your elder parent's privacy.